Which factors following ACL surgery influence return to sport and pre-injury levels
Research reviewed: Variables Associated With Return to Sport Following Anterior Cruciate Ligament Reconstruction: A Systematic Review (Czuppon et al; BJSM 2014)
Ruptures of the anterior cruciate ligament (ACL) have become increasingly common over the year, with yearly estimates of upwards of 200,000 ACL ruptures in the United States alone.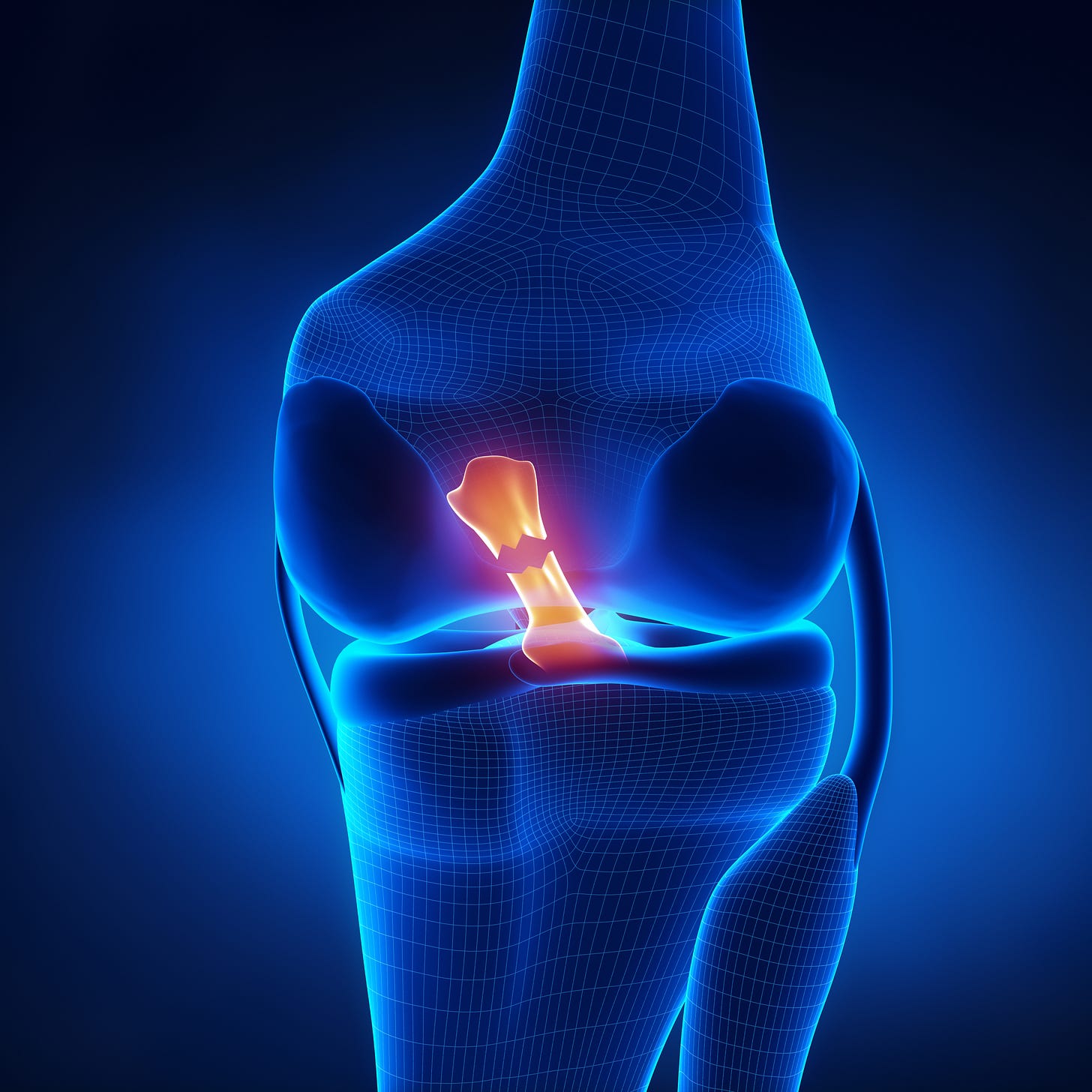 The return to play process can be a grueling one and a key question becomes - what factors do and don't influence whether an athlete returns to sport and/or their pre-injury levels?
The following paper examined that question.
The paper
This paper from the British Journal of Sports Medicine (BJSM) is a systematic review that whittled 1372 papers down to 16 based on strict inclusion criteria to limit bias and poor research design.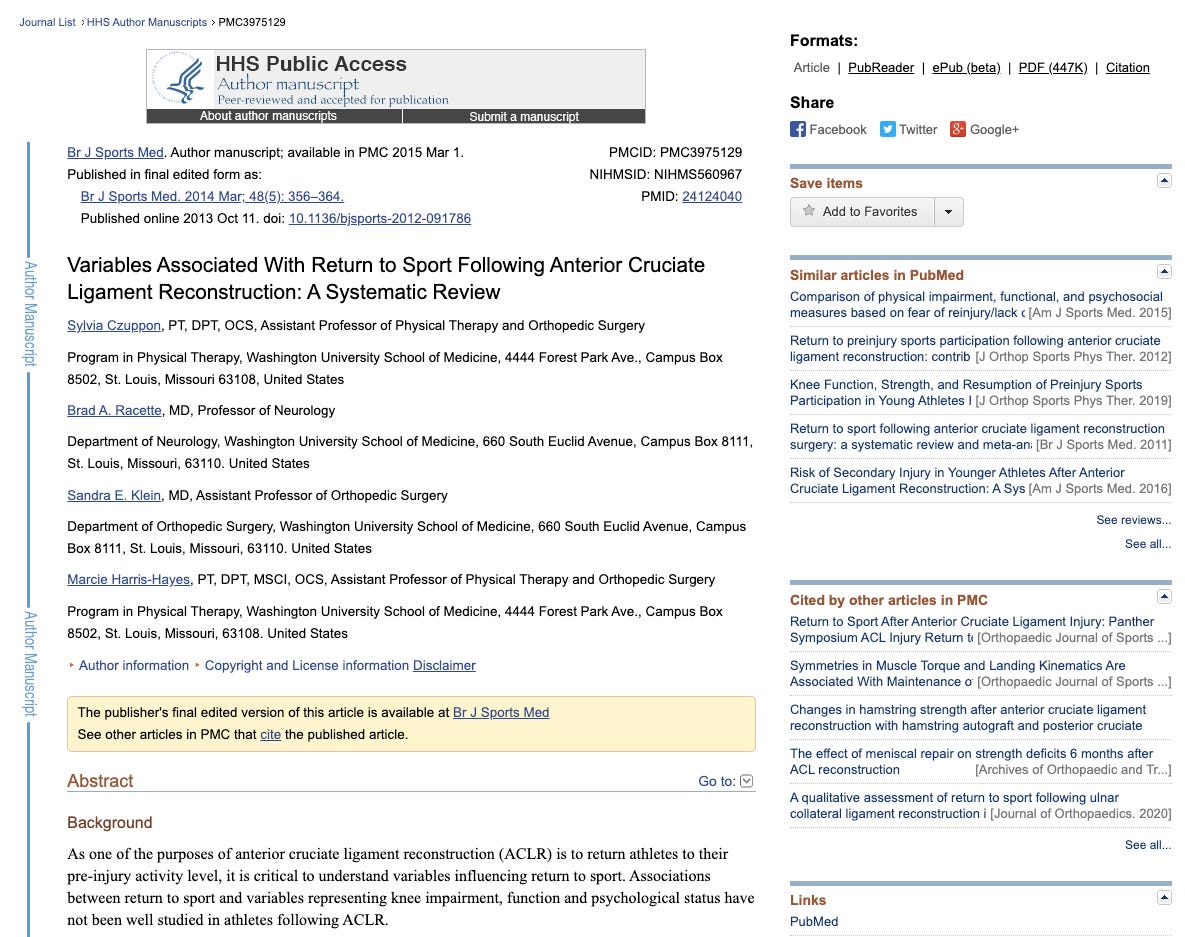 Using those 16 different papers, these researchers examined whether subjects returned to play following their ACL surgery and which factors may or may not have influenced that return.
The results
The researchers found that the following factors were associated with higher rates of return to sport following ACL surgery and physio (compared to those subjects who were unable to return to sport):
Less pain in the operated knee at one and three years following ACL surgery

Higher quadriceps strength (measured as torque) at one, five, and eight years following surgery

Less swelling at one and three years following surgery

Higher tibial (shin bone) rotation range of motion at two years post surgery

Less episodes of knee instability at one year post surgery

Higher activity level (measured by the Marx activity score) at two years post surgery

Less kinesiophobia (fear of reinjury and/or movement) as measured by the TSK-11 questionnaire one year post surgery

Higher athletic confidence (measured by the ACL-RSI scale) at six months and one year post surgery

Higher pre-operative self-motivation score (measured by the pyschovitality questionnaire)
Some notable factors that weren't associated with higher return to sport rates included:
Hamstring strength (measured as torque) at 1.5 - 2 years following surgery

Hop and functional testing at one or two years following surgery
Key takeaways
Many pertinent takeaways here but there are two highlights:
1 - Multiple measured showed that psychological factors impact return to sport rates (this aligns with other recent research) but in my experience, these factors are often overlooked during the rehabilitation process and a significant blind spot for the general public. However, numerous athletes have shed more light on the psychological factors impacting ACL recovery by speaking openly and quite candidly on their experiences in physio. One prime example is Arsenal left back Hector Bellerin who suffered an ACL rupture last January and detailed his return to play process and challenges extensively on his YouTube vlog.
2 - Hop and functional testing which are frequently used as return to sport criteria following an ACL rupture - specifically looking at side to side differences between the legs - may not actually be a valid measure. Therefore, it's important to potentially re-examine how we're rehabbing ACL injuries and clearing athletes for return to sport.
Dr. Rajpal Brar, DPT is a sports physio, student of mindfulness, and sports performance scientist with a keen interest in delivering educational, digestible, and practical information driven by the goal to provide the highest quality patient and client care. He is the owner of 3CB Performance which provides consultation online for injury rehab, mindfulness practice, and sports performance (including strength and conditioning) and consultation in-person in two clinics in Los Angeles, CA.
You can also find him on YouTube, Twitter, and Instagram where he provides further expert insight & analysis on sports medicine, performance, and mindfulness.