Does a combined light lifting and blood flow restriction (BFR) training program get the same strength gains as heavy lifting?
Research Reviewed: Effect of blood-flow restricted vs heavy-load strength training on muscle strength: Systematic review and meta-analysis (Gronfeldt, BM et al; 2020)
Blood flow restriction (BFR) training is a technique that partially cuts off blood supply to the group of muscles being trained in order to stimulate metabolite production which are catalysts for muscle growth.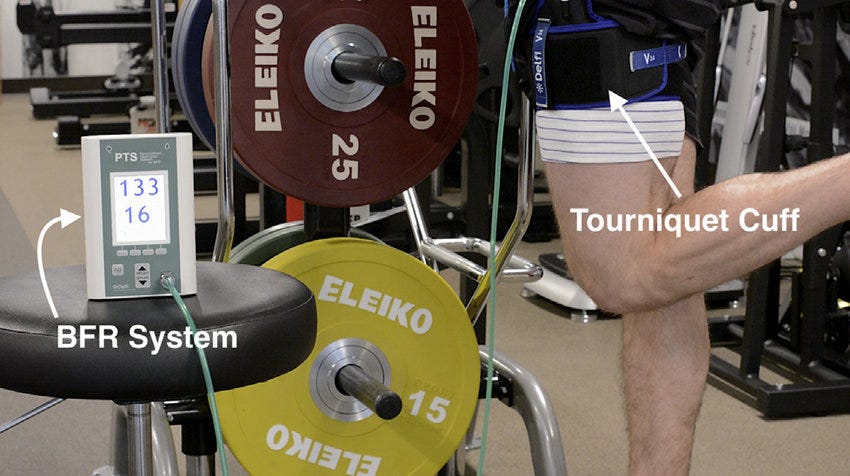 Based on emerging evidence, there's potential that BFR with light loads may be able to generate the same strength gains as heavier lifting - the gold standard for gaining strength - without the associated wear and tear on the body (joints, nervous system, etc) in healthy individuals. Today's paper systematically reviewed the current breadth of literature to further determine if that potential holds true.
Lets get to it.
The Paper
This week's research paper is a systematic review from the Scandinavian Journal of Medicine and Science in Sports published in February 2020.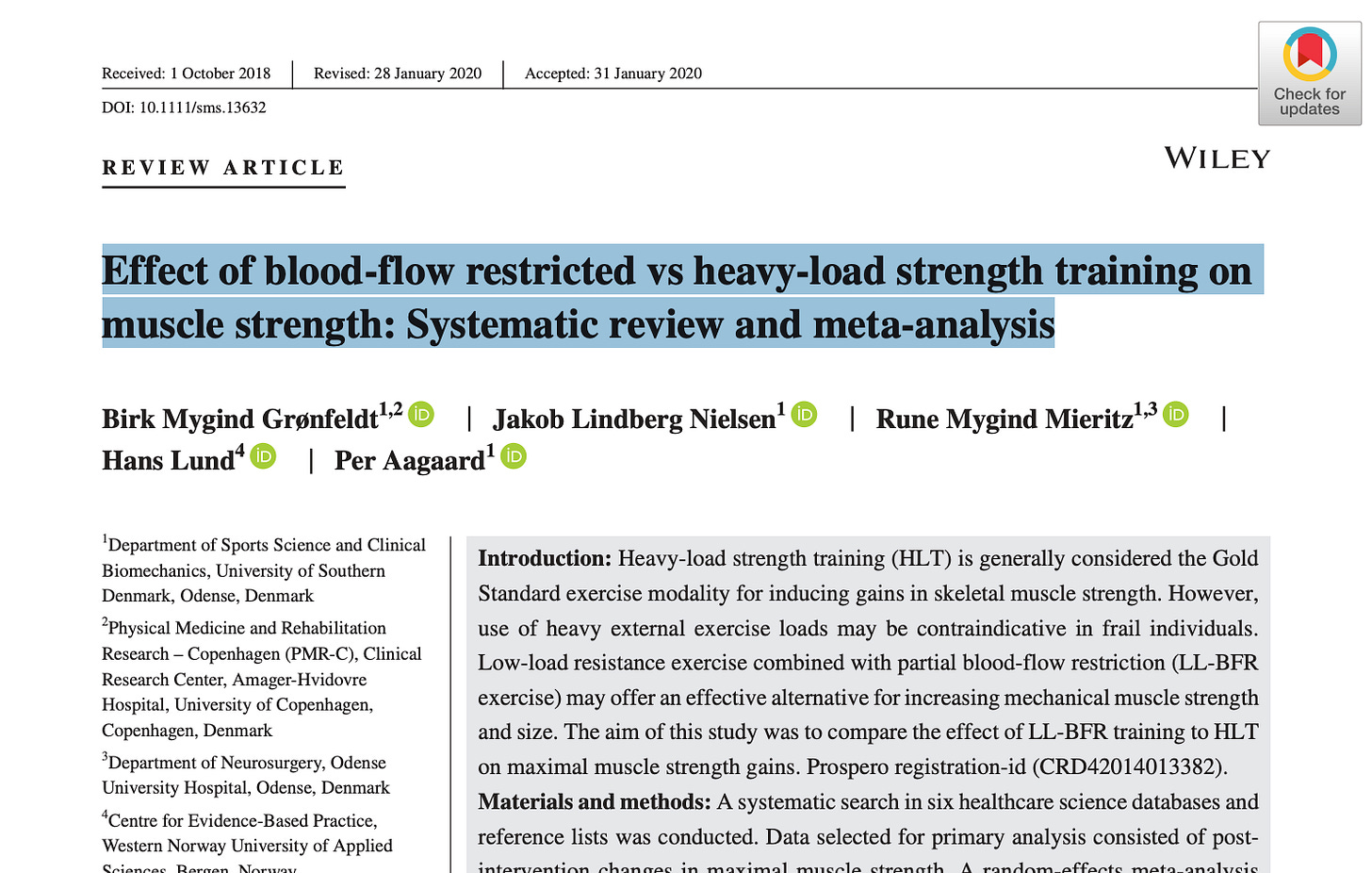 The researchers took 1413 papers on the topic and cut that down to 16 papers fitting the strict inclusion criteria. A key criteria was including papers in which both the low load blood flow restriction training (LL-BFR) program and heavy load strength training (HLT) program were identical in terms of dosage (times per week), muscle groups, and modalities (leg press, biceps curl, etc).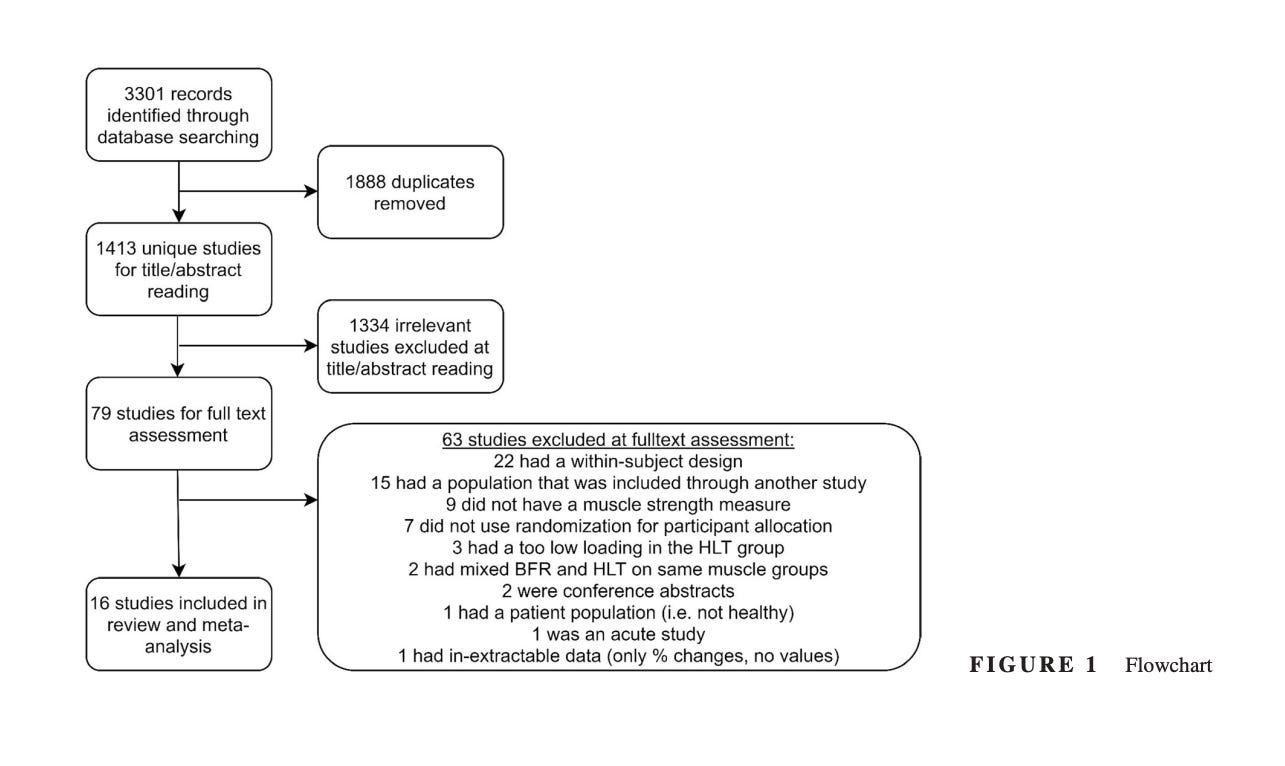 The Results
The LL-BFR training resulted in similar strength and muscle mass gains as the HLT training, regardless of the large difference in weight (20-30% of 1 rep max for the former vs 60-90%).
The key takeaway
The similar strength and muscle mass gains in healthy adults indicate LL-BFR protocols may have a larger utility than only rehabilitation programming.
However, and this is critical, there are still many unknowns when it comes blood flow restriction training such as tissue adaptations (bone, tendon, neuromotor) and potential risk factors such as blood coagulation, cardiovascular responses, oxidative stress, and muscle damage.
Therefore, although LL-BFR training may result in similar strength and muscle mass gains, there's a considerable ways to go - especially with long-term studies - until it can be deemed as safe, effective, and efficient as tried and true, appropriately planned heavy resistance training programs.
---